Managed Services IT
Managed IT services allow businesses, of any size, to reduce their IT risks and boost profits. With an MSP (managed Service provider), a company only pays for what they need, i.e., company pays the MSP to deliver support and service within a specific contractual SLA (Service Level Agreement).
Technology has the power to overcome limitations and take the company to new heights. At the same time, it can also make your business more vulnerable to security threats.
The question is: Do you know how to make use of technology properly? If you're not sure on how to leverage emerging technologies for the benefit of your business, do you know the other options you can leverage to keep your competitive edge?
Here are some "must have" information about a solution that many businesses overlook. If your firm has concerns about the lack of flexibility, growth, peace of mind and time to focus on your core business, you need to start using Managed IT Services.
Businesses that leverage Managed IT Services offering can reduce their risk, reduce the bulk of their IT problems while remaining in control of all of their data.
For many organizations, managing and maintaining their own IT infrastructure and services can be daunting. It also takes the time away from their IT staff who could be used on mission-critical tasks.
Due to the challenges that come with monitoring and managing their own IT, an increasing number of businesses are opting to Managed Services, to either strengthen their team or completely outsource their IT needs.
Businesses are finding that managed services are helpful in many ways such as: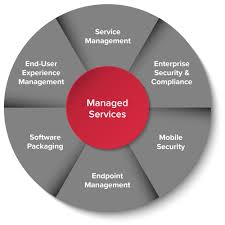 Increasing the reliability of their systems
Increasing staff productivity
Reducing overall costs
As the business expands and evolves, it is the responsibility of the managed service provider to assure that they are your true partner and accommodate your changes - with flexibility.
NuMSP is such a turnkey solution that offers full-service managed service. The primary goal of NuMSP is to improve your efficiency so your internal IT staff can focus on your strategic initiatives. We aim to offer best-in-class services using our technology, and our tried-and-tested best practices. We're here to give you relief from the mundane tasks so you can focus on the improving your core business.