In today's ever-changing market conditions, CEOs and small business owners are under pressure to make sure their technology is achieving a better ROI than their competitors.
However, it is not easily achieved, particularly for young or small businesses with less financial resources. Having a successful in-house IT team can increase the Total cost of ownership (TCO) which may take a huge chunk of the company's budget.
Due to the disadvantages related to TCO and maintenance, several small and medium-sized businesses are turning to IT Managed Services. These services can help assist the existing IT team or become the virtual IT department for those companies, handling all of their IT services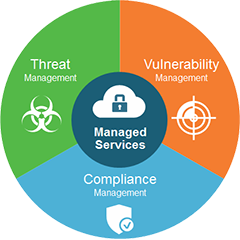 The benefits of using an IT Managed Services are numerous, here are some of the top benefits for businesses:
Companies can save time and financial resources with IT Managed Services since they will be provided a specialist who can handle all of their needs. IT Managed Services can lower the technology risks associated with repairing, implementing or replacing complex technology solutions. Apart from it, companies can enjoy access to the most advanced technology solutions without having to invest in expensive equipment.
Comodo's nuMSP is one such solution that ticks all the boxes when it comes to IT Managed Services.
Comodo's nuMSP will help you manage your IT needs in
A New Way. A Better Way.
Thanks to the internet, you can find the best of whatever you want. That's how we built nuMSP. We went around the world and found the very best IT managed service providers — the ones with the most knowledge, experience, and customer-satisfaction skills. We asked them, what do customers most want? A trained person on the phone… high-touch service… lower prices. These are the pillars we used to assemble nuMSP. We know you'll like it.
Get High ROI and Low Total Cost of Ownership with Comodo's nuMSP
Services Offered with nuMSP include:
Asset and Account Management:
We'll catalog and maintain your hardware, software, licenses, passwords, and subscriptions.
Alerts:
We'll monitor your systems (during normal business hours) with event notification.
Patch Management / Windows Updates:
We'll keep your systems current
Antivirus: We'll install Comodo software, one of the best products available.
Purchasing:
We'll recommend and buy the right hardware and software for you.
Technical Audits and Business Reviews: We'll scan your systems and generate a quarterly report.
Business & Technology Planning:
We'll help you prepare for tomorrow
Application Administration / Management.
Save time and money by switching from in-house services to Comodo's nuMSP.
Why Choose nuMSP?
20-Minute Response:
We provide the white-glove, personalized attention you might expect from somebody you know down the road. We get back to you within right away — with fast, actionable information to resolve your issues.
Phone Support:
A trained, Level II technician will service you — unlike a boilerplate email from an overseas Level I helpdesk representative who can't talk tech, much less the particulars of your case.
We cost less:
Our prices ($10/workstation and $100/server) are HALF the national average.
Customized Support Packages:
nuMSP is built around your needs — not a cookie-cutter solution.
24×7 support:
Leads to faster resolution of issues.
We do it all:
Mac, PC or Linux? Windows 365 setup? Security for every device, from computers to phones? Not a problem. You build your business network. Our nuMSP will take care of your computing network.
Many of the world's most successful companies count on Comodo's nuMSP to manage their projects and serve their technology needs. Across industry verticals, nuMSP has proven to be a trusted technology partner.
Additional Proactive Solutions - Preventative / Responsive IT
Cloud Services (Private / Public)
Network Security
Email/Exchange Management
Desktop/Server Virtualization
Vulnerability & Risk Assessments
Security Policy Management
HIPAA Compliance
Security Compliance
Anti-Spam filtering
Mobile / BYOD
Business Continuity / Data Recovery
SharePoint
MAC/PC Server/Client integration and service
Network Operation
Network Troubleshooting
Network Architecture and Design
Network Installation and Implementation
Comodo Suite
Comodo's nuMSP will take up end-to-end accountability and ownership which lowers your risk. It offers you the flexibility and enables you to concentrate on your core business instead of handling day-to-day operations and technology issues.
With nuMSP, you can take advantage of the economies of scale along with flexible operating models, personalized as per your operating hours, and other specific needs.