NuMSP Offers Best-In-Class Cloud Storage for Its Clients
Cloud services and cloud storage are becoming keystone technologies for enterprises because of they allow companies to scale their services efficiently and unpack their operations from anywhere with a working Internet connection. Both cloud storage and cloud services also provide a measure of protection for businesses in case of a data loss due to a cyber attack or data corruption.
NuMSP takes advantage of cloud services and cloud storage technologies to serve the best interests of its customers. Clients who subscribe to NuMSP's managed services subscription plan for servers gain an array of cloud services including cloud storage backups of their data. This particular cloud service allows for the continuation of business processes in the event of an attack.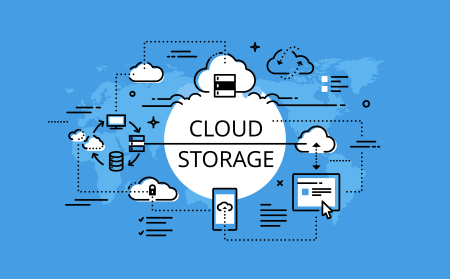 NuMSP's Best Enterprise Cloud Services With Cloud Storage Back Up Protection
NuMSP offers the best cloud services in the market in partnership with Comodo. When customers enroll with NuMSP, their network is automatically given the protection of Comodo Cloud Antivirus. This particular cloud service scans data that go into the network for malware. NuMSP clients also get to avail of another cloud services product called Comodo Antispam which screens emails coming into the network and removes phishing and malware-injected messages.
However, since business continuity is important in the face of hacks and breaches, NuMSP opted for the best cloud storage among the cloud services it offers to clients. Let's talk about the features of that cloud service in the following section.
Why NuMSP Cloud Services Cloud Storage is Top Tier Protection for Businesses
Onsite Backups Paired with Cloud Services Cloud Storage

For faster data recovery after data corruption or a hack, NuMSP installs a local network device in their clients' premises which uploads to cloud services, particularly to the cloud storage part.

User-friendly Wizards to Assist Even Novice Users

Strangers to cloud services can rest assured that NuMSP's cloud storage is user-friendly. Every step in the backup to cloud services comes with a wizard so there's no complication nor confusion in using the cloud storage.

Full Flexibility in Backup Scheduling

NuMSP's cloud services allows for customization in terms of data syncing between local storage and cloud storage. Clients can assign off-hours as times to sync data or periods where there is lesser network activity.

Backup Customization Options

Clients enrolled in NuMSP cloud services can set the degrees of backups from full backup to stalled uploads. This allows for greater optimization of bandwidth in case a full sync isn't possible.

Powerful Encryption

The system encrypts data entering and being recovered from cloud services. This allows for better protection from breaches and hacks. Clients can put their mind at ease knowing their data streaming from cloud services is extra-protected from prying eyes.

De-Duplication Features For Efficient Cloud Storage User

Since cloud storage isn't infinite, NuMSP's cloud services uses de-duplication in order to remove redundant files. This allows for greater efficiency in cloud services and management of cloud storage.

Automated Backup and Recovery

NuMSP can use programs for seamless backups and data recovery from cloud services. This program can work in case operating systems are down so the networks can be propped immediately after an attack.

These cloud services advantages provide a clear edge to NuMSP clients and should be factors that clients look for in a managed services providers' package. Cloud storage and other cloud services will definitely empower your business environment and serve as a layer of insurance against today's cyber threats.
Get NuMSP for Enterprise Cloud Services Today
NuMSP not only offers one of the best cloud services packages in the MSP industry today, they also offer the one with the lowest price-point. Other MSPs offer server management at $200 and above per month. As you can see NuMSP's cloud storage and cloud services are just bonuses of an already very solid server management package.
Aside from storage, clients can also avail of cloud services products like an antivirus, email protection, account management, and disaster recovery. What are you waiting for? Avail of NuMSP's server management services and get these cloud services today along with cloud storage.
Are you intrigued by NuMSP and the various cloud services it offers with its packages? Please don't hesitate to call us today so we can talk about how to fit in these cloud services with your subscription and your system today. NuMSP will give you the best service on top of its already cost-effective prices plus the benefit of adding cloud services to your network.