A Cloud email client is an email application hosted in the cloud. Similar to conventional email clients, Cloud email client allows users to receive, read, compose and send emails. It offers a centralized interface for receiving, composing and sending emails.
In recent years, email has quickly gained traction among businesses and users alike. It has undoubtedly transformed the way we communicate. Emails which were once thought to be a short-term fad by some people in olden days has quickly placed its name in the corporate world. It has the potential for longevity due to its sheer speed and convenience.
Though there are lots of other convenient options for messaging such as the Twitter, Facebook, text messages, etc., all those messaging services lack some of the intuitive features offered by today's email clients.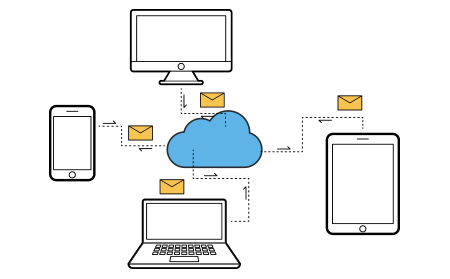 When it comes to managing a business, especially in the case of a remote working environment, collaborative tools like the email are given high importance. A critical step in setting up a workable business pattern with your staff, partners, and customers is mainly dependent on the productivity tools that you choose for your business.
Though there are numerous free email services like Gmail, Hotmail, and Yahoo to use for online communication, there is a need for a highly secure email client. Companies need to think a step ahead to focus on more customized options for their email systems. Businesses involving more than 20 employees require an effective work policy and synchronized communication amongst all the team members. In such a scenario, dedicated cloud email client is the ideal solution.
NuMSP Cloud Email Client
Staying secure while staying connected is the primary concern for many businesses. NuMSP Cloud email client comes with some of the industry-leading security features that offer all-around protection against cyber attacks. NuMSP cloud email client also offers a smart email interface that makes multi-tasking a breeze.
If you are planning to install a cloud email client for yourself or choosing one for your employees, select NuMSP. NuMSP's cloud-based email platform is an all-in-one email solution that offers everything you need from a cloud email system. Try the comprehensive cloud-based email solution from NuMSP today!