Windows 7 Security Risks for Your Business
---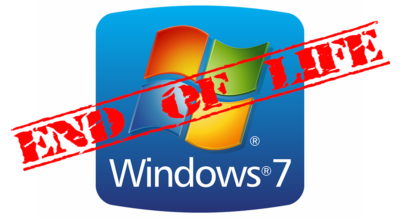 If you are still using Windows 7, your PC may become more vulnerable to security risks.
Microsoft has been warning Windows 7 PC users for more than a year about the changes that went into effect on January 15, 2020. Microsoft no longer provides Windows 7 users with free security updates to the operating system. Windows 7 is and will continue to be accessible, but the system will be more vulnerable to possible security problems.
The Full-Screen Warning
Windows 7 Home and Pro users have been receiving periodic nag screens all leading up to the last day of support on January 14th. The full-screen warning that displayed on January 15 strongly recommended switching to a new PC with Windows 10 for the benefits of the most up-to-date protection against cyber-attacks.
Businesses who remain on Windows 7 and Server 2008 will be left behind with:
No technical support
No software updates
No security updates
Businesses who don't upgrade might think they are saving some money now but, in reality, may have far bigger and more expensive problems coming.
What Does This Mean For Security?
Procrastinating the upgrade will leave your company's systems weak and vulnerable to data breaches, liability issues, and other cyber threats. Operating systems and servers need to be continually updated to stay secure. Without updates, patches, and bug fixes, your environment will be exposed to cybercriminals who will exploit vulnerabilities.
Hackers are waiting for companies who don't migrate from Windows 7 after the end of life date and are no longer supported or secure. Don't be tempted to try to save a bit of money… because it could end up costing an unpredictable amount!
Is it Really Over?
Users of Windows 7 who bought Extended Security Updates for all of their PCs running the OS will continue to receive security updates from Microsoft with no new fees for up to three years. The same is true for users who bought Windows Virtual Desktop. Office 365 ProPlus will continue to work on devices with Windows 7 Extended Security Updates through January 2023, according to Microsoft officials.
Chrome Browser on Windows 7
Users of the Chrome browser on Windows 7 will still have support and updates until July 2021 at least. There has been no announcement from officials with Microsoft about support for the new Chromium-based Edge browser.
Windows 10 Deployment
Choosing to use an unsupported version of Windows 7 leaves your business vulnerable to hackers looking to target the decade-old operating system. If you don't know where to start, we're here to help. From backing up your files to finding a computer that fits your needs, NuMSP has the tools to help you transition with ease.
Click here to schedule timewith an Expert who can help plan and execute your team's move to Windows 10.
Share this Article