Security
Employment Scams Have Recently Exploded
With COVID-19 creating an unsure situation for so many businesses, and by extension their employees,.....
---
Employment Scams Have Recently Exploded
---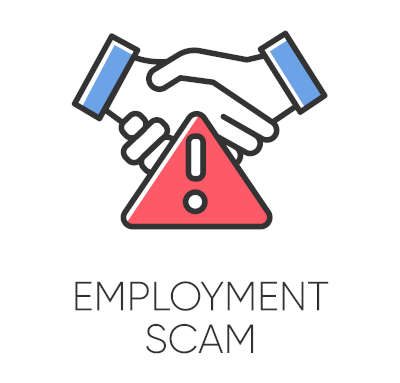 With COVID-19 creating an unsure situation for so many businesses, and by extension their employees, these employees are suddenly finding themselves in a vulnerable position. Regardless of whether or not your employees are able to come into the office right now, it is important that you share the following information with them, as it may help to keep them out of a tough spot.
Consider Your Employees Position
Think about how your team may react to the idea that they suddenly won't have a stable source of income. Chances are, they will swiftly be open to the idea of alternative sources of income. Scam artists are very aware of this and will take full advantage of this opportunity.
The Better Business Bureau has collected data within a study that revealed a clear increase in cons and attacks toward businesses and workers currently out of work. Specifically, these attacks have taken the form of a kind of phishing known as employment scams.
Employment scams or job scams are just another way that cybercriminals gain access to your personal data. Basically, their hunting ground consists of the online job sites and gig opportunities that your employees may be tempted to peruse as their job prospects. By roping in your employees?potentially extracting their financial data as they do so? these scammers seek to profit for themselves. Scammers will post fraudulent job postings on job sites to rope in victims and require them to pay for training materials or special certifications that never come, or to cash a bad check before being ?hired.?
Warning Signs to Watch Out For
To help protect your employees from these impacts, make sure that they look out for the following warning signs:
Interviews are conducted over messaging services. If a company reaches out to you over a casual messaging service, like Facebook Messenger or Google Hangouts, it is highly unlikely that the offer is legitimate. This is only more the case if they request your personal information over these platforms. Most businesses will instead use their own messaging platform if they need to.
Job descriptions and requirements are unclear. If an ad that you find is vague, it is almost certainly a trap. Businesses will be specific as possible to get the best candidates they can. Since scammers don?t have an actual job to fill, they aren?t nearly as particular in their job descriptions.
Personal information is requested during or prior to an interview. A fake job ad will often ask for these kinds of details. Do not give them over. The time for that will come when the HR department is settling your paperwork once you?ve secured the job.
Payment is required to apply, or they offer career counseling instead of a job. Desperation is a powerful motivation, so scammers have realized that they can leach money out of people who are job seeking or offer them career counseling services in exchange for a fee.
Make sure that you do everything you can for your employees as they are trying to make ends meet, and if they are looking for some extra freelance work, encourage them to keep a few best practices in mind: look up the company you?re interviewing online, keep your information to yourself, and take everything with a grain of salt.
NuMSP also can provide your business with the technology that allows your team to work remotely, sustaining your operations and keeping them employed. Learn more about how we can assist you by reaching out to us at (201) 201-8352.
Share this Article