Cloud Email Server
Nowadays, cloud computing appears ubiquitous in the IT industry, as the industry relies heavily on the on-demand cloud computing for managing day-to-day activities.
Cloud email servers are basically servers hosted in the cloud. Cloud email servers are networked together to provide a single pool of computing power for cloud-based email services.
How Cloud Email Servers Works
Conventional IT infrastructure models tend to revolve around the idea of a single on-premise email server, whether it be a dedicated server - i.e., for the sole use of that client or shared across multiple clients.
Cloud email services can deliver similar virtualized server environments, but they draw resource from not one, but a multitude of individual cloud servers which are networked together to provide a combined pool of several resource.
Cloud email services use a platform (a form of clustered hosting) in which the resource demands of an individual client gets spread across numerous distinct servers. Cloud hosting provides sufficient servers which multiple clients can tap into as per their need. Unlike conventional servers, you can scale the infrastructure as much you needed. Also, it is affordable when compared to traditional on-premise servers.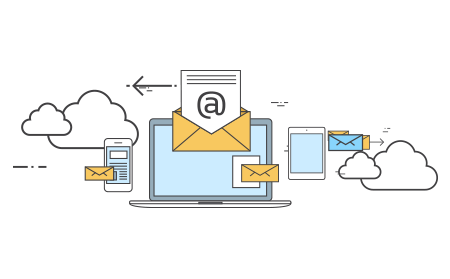 Benefits of Using a Cloud Email Servers
The traditional manner of setting up dedicated or semi-dedicated on-premise servers has several disadvantages like the costs and the resources it needs. Also, you must keep upgrading the software in on-prem servers to keep it secure and operational.
When you use a cloud email server provided by a third party vendor, many of the problems associated with an onsite server disappear.
The Cloud servers are almost infinitely scalable; many email server hosting service plans are priced according to your specific usage and needs, making it a much less expensive alternative. Even if your needs change due to the growth of your organization, the cloud-based infrastructure can easily handle it.
NuMSP Cloud email Services
NuMSP is an innovative cloud email service provider with an emphasis on security and simplicity. NuMSP's cloud-based email platform is an all-in-one email solution that offers everything you need from a cloud email system. Try the comprehensive cloud-based email solution from NuMSP today!